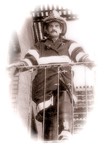 Fire Marshal Ronald Bucca, killed in the September 11, 2001 terrorist attacks while attempting to rescue victims trapped in the World Trade Center. 
"WE SHALL NEVER FORGET 343"
Federal Law HR-218 Hollow Points Now Legal in New Jersey
In the wake of the Texas tragedy and other attacks on Law Enforcement we stand united in the cause of supporting our fellow officers and feel their pain and sorrow in the great loss they suffered. To make a donation click here!
**** 2 FDNY FIREFIGHTERS KILLED IN IRAQ ****
It is with deep regret we announce the deaths of Lt. Christopher J. Raguso, 39 and Fire Marshal Christopher "Tripp" Zanetis, 37

Lt. Christopher J. Raguso, 39, was appointed as a firefighter in 2005, and worked for many years in Ladder Company 113 in Flatbush, Brooklyn, before being promoted to lieutenant in 2016, and going to work in Queens. Decorated six times for bravery and saving lives, he was a volunteer firefighter on Long Island, where he lived with his wife, Carmella, and two young daughters.

Fire Marshal Christopher Tripp Zanetis, 37, who was on leave from the department, where he had been a marshal in the Bureau of Fire Investigation. Appointed as a firefighter in 2004, he was assigned to Engine Company 28 on Manhattan's Lower East Side. In 2013, Firefighter Zanetis was promoted to fire marshal and the following year was recognized for his bravery as part of an investigative unit. He graduated from Stanford Law School and recently started as an associate with the firm Debevoise & Plimpton in New York. The firm issued a statement Friday saying it was "deeply saddened" by the loss of "our colleague Tripp Zanetis." He left for Iraq the second week of January for his third tour. His father said his son was "a pilot, flies a rescue helicopter, is a cross-fit trainer and he was in excellent health. He was unbelievable. Unbelievable." "He loved everyone and everyone loved him," Mr. Zanetis said.
Fire Marshal Thomas J. Bieselin
It is with deep regret we announce the passing of retired FDNY Fire Marshal 

Thomas J. Bieselin, 72, award-­winning husband, coolest dad/grandpa, master storyteller, avid reader, lover of beer and super friend to many, died on November 14, 2017. Tom was a shining example of hard work and tenacity which he put into practice in all of his career paths, most notably for decades as Firefighter and Fire Marshall with the FDNY at Engine 212 in Brooklyn. Tom was a Veteran and served in the US Marine Corps, Army National Guard and retired as a Master Sergeant from the Air National Guard. In his retirement, Tom was the President and CEO of his self-­made company, Case Closed Inc., providing investigative services for EEO claims. Tom's legacy as an incredible person lives on through his wife of 50 years, best friend and teenage sweetheart, Jean Bieselin, his smart, kind daughters Julie, Christine and Amy, their equally fantastic husbands, Josh Faby, James Clark and Mark Craparo, his favorite (and only) grandchild Casey Elizabeth Craparo, his sister Lee and her husband Larry Blatt, his brother Herb (who recently passed away) and Herb's wife Dorothy, and a village of friends gained over his many well-­lived decades. In lieu of flowers, have your car's oil changed and check your tire pressure. Tom would have wanted you to drive safely. Donations can also be made in Tom's name to: The NY Firefighters Burn Center Foundation, The Bowery Mission (NYC), Marine Toys for Tots Foundation or St. Jude Children's Research Hospital -­ all charities that Tom & Jean proudly supported. A celebration of Tom's life is planned for December with details to follow
OUR CALENDAR FOR UPCOMING NYS FOP 2018 EVENTS!  
CLICK HERE FOR 2018 DUES & LODGE MEMBERSHIP APPLICATION
Brother Frank Zambrano has graciously taken on the task of making up Lodge "T" shirts which are now available for sale to our members. Those members interested in purchasing can email fzambrano@fdnyfop20.com or call 845-623-2598 for more info. Large & XL are $10each, XXL-$12.
Body Scans Offered For Retired Law Enforcement Officers - Click Here for Info!

FM MARTIN McHALE CHILDREN'S EDUCATION FUND 
Donations can be made to:  c/o  The FDNY Foundation, 9 MetroTech Center, Brooklyn, NY 11201 U.S.A.
                                                          **************************
Looking to purchase a New Toyota or Scion? Get the best No Hassle deal by Clicking HERE!
LAST UPDATED: