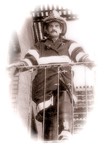 Fire Marshal Ronald Bucca, killed in the September 11, 2001 terrorist attacks while attempting to rescue victims trapped in the World Trade Center. 
"WE SHALL NEVER FORGET 343"
Federal Law HR-218 Hollow Points Now Legal in New Jersey
In the wake of the Texas tragedy and other attacks on Law Enforcement we stand united in the cause of supporting our fellow officers and feel their pain and sorrow in the great loss they suffered. To make a donation click here!
FDNY Fire Marshal Edward Piazza 
FDNY firefighter and fire marshal, beloved husband, father and grandfather Edward Piazza 78, passed away Monday, Oct. 9, 2017. He was a resident of Great Kills in Staten Island, N.Y., for 30 years. He was raised in Queens and attended Newtown High School. He lived in Flushing until his move to Staten Island in 1987.He is survived by his wife, Ann; a son, Edward (Diane) of Millen, Ga.; a daughter, Jeannie (Richard) Downey of Wappinger Falls, N.Y.; three grandchildren: Ryan, Riley and Reese Downey, and numerous nieces, nephews and cousins.As a young man, Edward was a driver for the New York Times. In 1965, he became a police officer with the NYPD 23rd Precinct. He changed careers in 1967 and became a fireman with FDNY Ladder 128, Queens, NY. He then later transferred to Ladder 43, Spanish Harlem. He retired as a fire marshal in 1987. After his retirement from the Fire Department, he worked for Continental Airlines for 10 years. He was a member of the Richmond County Yacht Club, Elks Lodge 841, Staten Island Fire Department Retirees, and the NYFD Columbian Association and an active member of the Staten Island YMCA. Edward and Ann celebrated their 56th wedding anniversary on Oct. 1, 2017.
Visitation for family and friends will be held Thursday from 2 to 4 p.m. and 7 to 9 p.m. at Casey Funeral Home, 30 Nelson Ave., Staten Island. Funeral Mass will be held on Friday at 11 a.m. at St Clare's Church, Nelson Avenue, Staten Island. Interment will be immediately following Mass at Resurrection Cemetery.In lieu of flowers, donation can be made in the memory of Edward Piazza to: NY Fire Department Burn Center, c/o Engine 66 Ladder 61, 21 Asch Loop, Bronx, N.Y. 10475. Casey-McCallum Rice South Shore F/H 30 Nelson Ave. Staten Island, N.Y. 10308 (718) 317-7600
***GENERAL MEMBERSHIP MEETING NOTICE!!!!***
November 14th. at S.I. Marine Corp League
46 Ontario Ave, S.I.N.Y. 10301
1900 - 2100 hrs. 
OUR CALENDAR FOR UPCOMING NYS FOP 2017 EVENTS!  
CLICK HERE FOR 2018 DUES & LODGE MEMBERSHIP APPLICATION
Brother Frank Zambrano has graciously taken on the task of making up Lodge "T" shirts which are now available for sale to our members. Those members interested in purchasing can email fzambrano@fdnyfop20.com or call 845-623-2598 for more info. Large & XL are $10each, XXL-$12.
Body Scans Offered For Retired Law Enforcement Officers - Click Here for Info!

FM MARTIN McHALE CHILDREN'S EDUCATION FUND 
Donations can be made to:  c/o  The FDNY Foundation, 9 MetroTech Center, Brooklyn, NY 11201 U.S.A.
                                                          **************************
Looking to purchase a New Toyota or Scion? Get the best No Hassle deal by Clicking HERE!
LAST UPDATED: